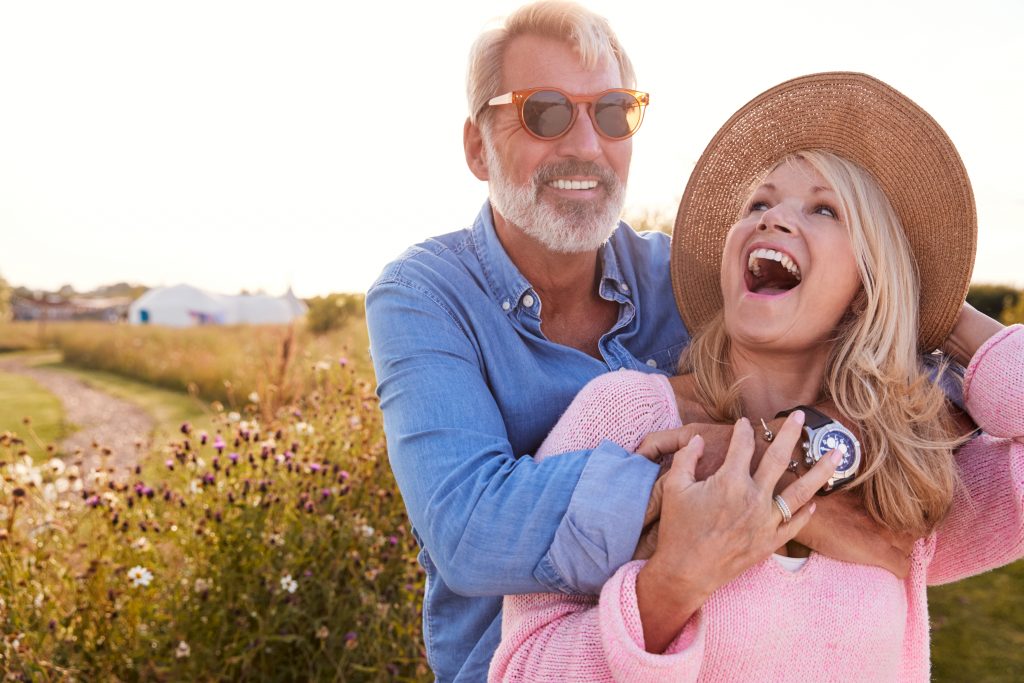 Life's Happiness Continuum
Is there a predetermined peak age for happiness, before which our normal outlook is gloomy and melancholy and after which we slump back into these non-euphoric ways? When Are the Best Years of Our Lives?
Studies Show Two Stages of Life Happiness
Like trying to define why some people are born to be joyful and others to play the role of curmudgeon, this issue has long intrigued psychological and social science researchers. While no singular conclusion has been reached, there are a number of compelling hypotheses…and you may be pleasantly surprised to learn that a number of studies suggest a U-shaped happiness curve with peaks for young and old, giving us not one but two stages of life to savor. Mid-life can be stressful, full of the challenges and demands of raising a family and sustaining a career, but according to some experts, there is indeed a light at the end of the tunnel.
The Economist's international survey of happiness gathered data from America's General Social Survey, Eurobarometer and Gallup finding an upward trajectory of happiness until age 30, a downward trend into midlife, with the lowest point reached at age 46, and up to higher levels again after the 50's. Jonathan Rauch, a senior fellow at the Brookings Institution and author of the 2018 book, The Happiness Curve, says although its effects vary between individuals, there appears to be a subtle but insistent tug that makes happiness more difficult to achieve in midlife and then reverses direction when we least expect it.
Other research supports this finding, including a University of Chicago retrospective study of 28,000 Americans over a 32-year period which showed older age groups were consistently the happiest. Interestingly, Dr. Dilip Jeste, director of the UC San Diego Center for Healthy Aging, describes it not as a curve, but more of a linear improvement in mental health that occurs even as physical and cognitive function declines.
Might Happiness in Women Peak Between the Ages of 50-70?
In particular, today's women may find some of their sweetest times between ages 50 and 70, according to an in-depth lifestyle study spanning three decades conducted by the TrendSight Group. The take-away for younger generations: "Aging isn't a dirty word, with it can come incredible confidence, strength and freedom," says study author Marti Barletta. Even better, a full 59% of women ages 50 to 70 felt their greatest achievements were still ahead of them.
Happiness may Increase with Age
Experts theorize a number of reasons that happiness may increase with age, including increased wisdom or psychological intelligence in handling challenges, fewer aspirations and expectations of self, greater appreciation for life, living in the moment with less worry about the future, greater ability to regulate emotions and less worry about pleasing everyone all the time. Stanford psychologist Laura Carstensen's Socioemotional Selectivity Theory, which is grounded in the unique human ability to monitor time, suggests that relative to younger people, older adults focus more on positive than negative information and prioritize emotionally meaningful activities – notably, deepening close relationships – over those related to individual achievement and exploration.
Recent findings from the Harvard Study of Adult Development, one of the world's longest studies of adult life, begun in 1938, also point to the vital role of relationships in happiness at older ages. According to the research, these ties protect people from life's discontents, help to delay mental and physical decline, and are better predictors of long and happy lives than social class, IQ or genes. Dr. Robert Waldinger, study director and psychiatrist at Massachusetts General Hospital, acknowledges that the research shows correlation, not necessarily causation. However, after following the subjects (including both Harvard graduates and inner-city residents) for many decades and comparing the state of their health and their relationships early on, he is confident that strong social bonds play a causal role in long-term well-being.
Perhaps 19th century journalist David Grayson had the best advice of all: "The other day a man asked me what I thought was the best time of life. 'Why,' I answered without a thought, 'now.'"
The post When Are the Best Years of Our Lives? appeared first on Specialdocs Consultants.