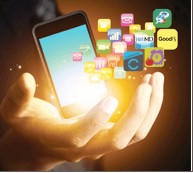 The ubiquitous smart phone has boosted its useful- ness tenfold in the past decade with a mushrooming library of health and wellness apps. Some aim to help you monitor your condition day-to-day, understand and stay on track with medications, or diagnose your symptoms, while others prepare you for an unforeseen emergency, allow you to share information electronically with your physician or receive education and encouragement between doctor's appointments. With almost 200,000 apps already on the market, the real challenge is identifying the treasures that are credible, accurate and can guide you toward a healthier lifestyle. Some notable apps are listed below; all are available for iPhone (in iTunes store) and Android (Google Play).
Condition-specific information
Diabetes Tracker and One Drop offer comprehensive logging of glucose, food, medication and activity; GluCoMo works as an electronic diary to store data for blood sugar levels, weight, insulin intake, pulse rate, blood pressure and other information.
AsthmaSense and AsthmaMD provide tools to manage the disease with a digital record of triggers, medications and testing.
The National Comprehensive Cancer Network Patient Guides for Cancer covers 25 different types of cancer, with medical illustrations, information on screening, treatment and follow-up, and questions for patients to ask their physician.
A healthier lifestyle
MyFitnessPal Calorie Counter & Diet Tracker remains one of the best diet trackers, allowing you to log meals and weight data for an at-a-glance view of your intake on the dashboard.
Nike+ Running and Garmin Connect lets you log distance, time and intensity of jogs and runs; Endomondo enables logging and sharing of information from walks, hikes and cycles; Trails, known as the 'ultimate walker's app,' provides topographical tracking of your strolls; and 7 Minute Workout provides exercise timers, instructional videos and a personalized exercise plan.
Buddhify and Omvana offer guided meditation tracks, ranging from three minutes to an hour.
Deep Sleep with Andrew Johnson features step- by-step instructions to guide yourself into meditation and a restful sleep and Sleep Cycle provides easy- to-read graphs to help you make sense of your sleep patterns and wakes you when you will feel the least groggy.
Medication tracking
Drugs.com is an easy way to look up drug informa- tion, identify pills, check interactions with different drugs and foods and set up your own personal medication records. A symptom checker powered by Harvard Health Publications is included with the app. CareZone will curate a list of medications, dosages, and schedules directly from your photo library, enable you to share symptoms with your doctor, store insurance information and schedule reminders for upcoming appointments.
GoodRx shows current pricing for your prescrip- tions at nearby pharmacies.
Round Health and Medisafe make it easier to follow a medication regimen with reminders on timing and dosage for each prescription, customized to your schedule.
Healthcare news
For information you can trust, check out Medscape MedPulse, a robust news aggregator for the world of medicine and UptoDate's patient information section, featuring evidence-based, peer-reviewed information on hundreds of medical topics.
First aid
Download First Aid by American Red Cross to receive simple step-by-step instructions to guide you through everyday first aid scenarios, from asthma attacks to broken bones; there's a Pet First Aid app as well; and Resuscitate! CPR AED & Choking, developed by doctors and educators at the University of Washington, features short videos on how to perform CPR, operate commonly available Automated External Defibrillators (AEDs) and aid a choking victim.
New parents
BabyBump helps parents-to-be keep track of the stages of pregnancy, doctor's appointments, and share their news on social networks when baby arrives; Sprout offers 3D images of baby's growth by the week and advice on essential items needed for the newborn.
KidsDoc from the American Academy of Pediat- rics offers expert advice to help parents make smart decisions on level of care needed for their child's illness or injury.
Please remember: an app, no matter how sophisticated or technologically advanced, cannot replace a phone call or visit to your personal physician.
Sources: Digitaltrends.com, Harvard Health, imedicalapps.com
The post The Connected Patient: Keeping Up with Apps appeared first on Specialdocs Consultants.