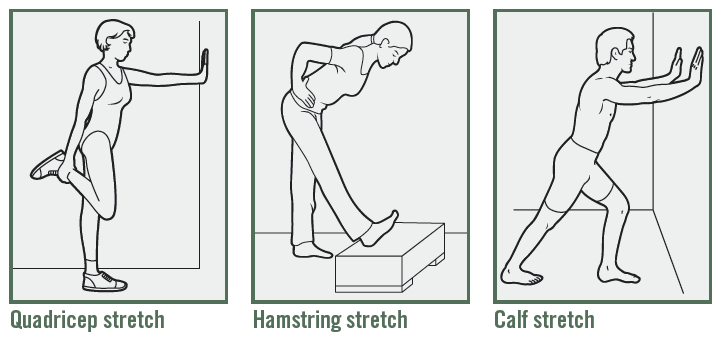 Ramping Up your Sprint Fitness after a Long, Sedentary Winter
Whether you went into hibernation as the result of a record cold winter season, or took time off from your usual exercise routine because of a busy schedule or illness, spring is an ideal time to get back in action. When done with care, starting or rebooting your fitness regimen this spring will set you up for a vibrant, energetic summer. After being cleared for exercise by our office, consider these issues to ensure you're not sidelined by injury, fatigue or boredom and get the most out of your spring fitness efforts
Aerobic or strengthening exercise? 
Both. According to the 2018 Physical Activity Guidelines for Americans, any amount is helpful but the recommendations to help prevent chronic diseases is   150  minutes of moderate-intensity or 75 minutes of vigorous-intensity, aerobic activity is recommended each week, and muscle-strengthening activities (free weights or resistance bands) two or more days a week. It would be ideal for older adults to add balance training to the mix. If it's challenging to find long periods of time to exercise, note that three 10-minute bouts or one 30-minute bout will deliver equal improvements in fitness.
Stretch before or after exercise?
Before, after or both can all work well, if done properly. Do not attempt long stretches beforehand when your muscles are cold and you're likely to pull a tendon, cautions Christine Butz, Doctor of Physical Therapy at Athletico. Instead, take 10 minutes to pedal on a stationary bike, march in place or walk around. Post exercise is the time for long, 30-second stretches that help you slowly increase muscle length (see below for examples). Most importantly, don't push through pain, says Butz. "If you experience sharp, persistent pain, or have difficulty moving through a full range of motion, stop and see a physician to determine if it's a strain, tear or fracture."

Steady state or interval training?
Once the bastion of elite athletes, interval training can be used at any level, according to Mayo Clinic. Simply alternate short bursts (approximately 30 seconds) of intense activity with longer intervals (three to four minutes) of less intense activity. For instance, if your exercise is walking, try incorporating a brief surge of jogging into your regular walks or alternate leisurely strolling with periods of brisker walking. As your cardiovascular fitness improves, you'll be able to exercise longer or with more intensity during your spring fitness routine.
What are the best activities to try?
Tap into one of these fitness trends to reinvigorate your workouts:
Starting with Jazzercise in the 1980s, and rising again in the 2000s with Zumba, both of which remain popular, numerous dance-centric classes are offered at health clubs and park districts – Broadway show routines, tap dancing, belly dancing, Irish dancing, square dancing, line dancing and ballet-inspired barre workouts. Interesting note: a number of studies are in progress exploring the possible benefits of dance in enhancing cognitive function and reducing stress.
Indoor cycling classes such as SoulCycle, Flywheel and CYC provide a fast-paced, high-energy environment. If you prefer to stay outdoors, but feel a bit unsteady on a 10-speed racer, check out the proliferation of classic cruiser bikes featuring wide, comfortable seats and upright handlebars.
Yoga and Pilates. Both are low-impact workouts that focus on using bodyweight resistance. Yoga builds strength, balance (ideal for preventing falls) and harmony in mind and body, with breathing exercises, meditation and postures (asana or poses) that stretch and flex various muscle groups. Pilates is excellent for improving core strength and recovering after injury.
Water classes are another low-impact option to build core muscles and help improve flexibility, stability and balance. Choices include traditional aqua aerobics as well as aqua ballet, aqua yoga and aqua tai chi.
Functional Training classes are designed to improve balance, coordination, agility, speed and strength, such as BOSU (both sides utilized) ball workouts.
The post Spring Fitness appeared first on Specialdocs Consultants.