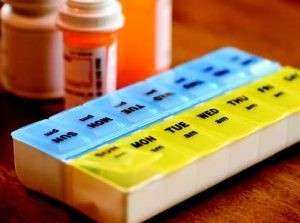 Managing Prescription Drugs: From Pickup to Take Back
If you are not taking your prescription medications as directed (or at all), you're far from alone. Compliance is estimated at just 50% among U.S. patients. Unfortunately, adherence is a direct impact on quality and length of life, and overall healthcare costs, accounting for up to 50% of treatment failures and up to 25% of hospitalizations each year. The reasons for noncompliance vary, from patients not being convinced of the medication's effectiveness, fear of side effects, the cost of certain medications to difficulty using tools (such as inhalers) or an aversion to injections. What can be done to manage prescription drugs more effectively?
For most, non-compliance is simply an unintentional consequence of forgetfulness or lack of organization. When faced with the need to keep track of a growing lineup of daily doses – and 77% of older adults manage two or more chronic conditions according to the National Council on Aging – it can become challenging to keep up. Fortunately, many solutions are available, from old school pen and paper to high-tech smartphone apps, that make it easy to reap the benefits of and manage your prescription medications.
Pick up
At the pharmacy, check your prescription instructions and make sure you fully understand dosage and timing; if best taken with food; interactions with other drugs, supplements, foods and alcohol; and side effects. If you have questions, ask the pharmacist or call our office.
Organize
Tried and true, a pill organizer with compartments divided into sections for days of the week is most helpful in managing multiple medications. Keep the original bottles so you can quickly access any dosing and refill information printed on the bottle or packaging.
Create a dosing schedule chart to keep next to the pill organizer, with a physical description or visual image of each pill. Use a spreadsheet or word processing program to make a list of all medications, times to take, and a check off space to indicate when taken. A number of pre-formatted charts are available online for download from the American Heart Association, the Food and Drug Administration and others.
Online pharmacies are entering the mix, offering delivery of monthly medications sorted by dose.
Smartphone Reminders 
Free smartphone apps can serve multiple functions. A few of the best:
Medisafe medication management and pill reminder, highly rated by pharmacists for its comprehensiveness and usability, includes videos for many frequently used medications illustrating use, side effects, contraindications and other information, and emails you a history of your medications and doses in an Excel spreadsheet.
Care Zone Health Information Organizer enables you to take pictures of your prescription and over-the-counter (OTC) drugs and supplements, populates with details, and sends reminders to take medications and refill prescriptions.
Drugs.com also sends reminders, keeps your medication history, includes an interaction checker for other drugs and foods and provides access to updated information for more than 24,000 prescription and OTC drugs and supplements.
Ask your pharmacist about preparing blister packs for daily or weekly medications; timer caps for pill bottles that beep to remind you when to take medications; gadgets that "talk" and relay the information verbally; and stand-alone electronic pill devices enabling easy input of medication name and measures, with an alarm that notifies you when the next dose is needed.
Properly Store your Prescription Drugs
Pick a location that is up and away, like a kitchen cabinet (not the bathroom, unless it is well ventilated). Keep medications cool and dry and in a well-lit area to ensure you'll reach for the right ones.
Open the medicine bottle on a flat surface to prevent dropped pills from being lost down a drain or landing on the floor.
Make a discard pile of medicines that are discolored, dried out, crumbling, leftover from a previous illness or past their expiration date—particularly biologic products, insulin, refrigerated liquids, eye drops, injectables or specially compounded medications.
Discard with care: Toss, flush or Take Back
Most prescription and OTC medicines can be thrown away in the household trash, with these important procedures:
Do not crush tablets or capsules.
Mix the medicines with kitty litter or used coffee grounds to prevent thievery or diversion of medicines from the trash. Then, place the mixture in a container such as a sealable plastic bag, and throw away.
Remove the label and/or scratch off all personal information when disposing of a prescription vial.
Check instructions included with prescription drugs such as narcotic pain relievers e.g. the fentanyl patch and other controlled substances, which must be flushed instead of discarded.
Even more convenient and environmentally sound are programs such as National Prescription Drug Take Back Day, sponsored by the U.S. Drug Enforcement Administration (DEA) in communities nationwide. The next one is scheduled for October 26, 2019: Find a collection site near you at https://takebackday.dea.gov, dispose of your unused or expired drugs safely and easily.
Did You Know?
Approximately 50% of medications for chronic disease are not taken as prescribed.
*Source: Annals of Internal Medicine
11.8 million pounds of prescription drugs collected since Take Back Day began in 2010.
*Source: Drug Enforcement Administration
The post Manage Prescription Drugs Effectively appeared first on Specialdocs Consultants.