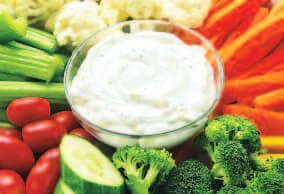 Just when the holiday season is over—we're back on track with healthy eating and an exercise routine—Super Bowl Sunday arrives and often derails our best intentions.
After Thanksgiving, Super Bowl Sunday is the day that Americans consume the most food, averaging 1,300 calories during the game itself—in addition to what already has been eaten before kick-off. An "average" daily caloric intake ranges from 2,000 to 2,500 calories. You can enjoy the festivities surrounding the game without having a penalty called on your snack choices. Advanced planning and a few substitutions can help you call the right nutrition plays!
If you are hosting a Super Bowl party, you can control the menu with a few tasty changes that are lower in calories. If you are invited to a party, bring a healthy snack to share. The following suggestions may help.
Chicken wings with blue cheese dressing are one of the most popular Super Bowl snacks, but are high in calories and laden with fat—347 calories and a whopping 29 grams of fat for four wings and two tablespoons of dressing. Remember, the average daily recommended amount of fat is 50-70 grams. A tasty substitute is four ounces of grilled skinless chicken breast (140 calories and 6 grams of fat), served on skewers with salsa or a dip of Greek yogurt with spices and herbs.
It is easy to "graze" throughout the party and lose track of how much you have eaten. The American Dietetic Association (ADA) recommends using a plate, even for small servings, to help gauge your portion size.
Snack food can derail diets. Four ounces of mixed nuts (a 1/2 cup) contain nearly 700 calories and 60 grams of fat. By comparison, the same amount of in-shell pistachios contain only 170 calories and 14 grams of fat. Two ounces of baked potato chips (220 calories, 4 grams of fat) or tortilla chips (220 calories, 2 grams of fat) compared to regular potato chips (310 calories, 21 grams of fat) or tortilla chips (276 calories, 13 grams of fat), reduce calories and fat. Pair chips or vegetables with salsas and low-fat dips such as hummus.
Make a pre-game strategy. The ADA suggests having a small snack before the party. Arriving hungry often results in overeating. Drink alcohol in moderation as it causes blood sugar levels to drop, which will make you feel hungry.
Smart substitutions and informed choices can carry you to your goal of guiltless eating and a good time…without a "fumble".
The post Healthy Snacks appeared first on Specialdocs Consultants.