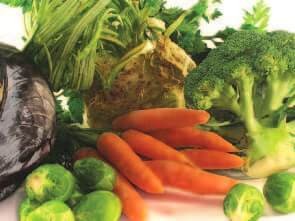 While they may not have the crisp appeal of sugar snap peas or the sleek appearance of a summer tomato, winter's bounty of root vegetables and greens brings some of the year's most nutrient-rich dishes to the table. Serve up as chips or gratins, roasted or braised, mashed or raw, in soups or salads…see our recommendations for a taste of the season below.
If you like kale, try collard greens, a super-green that can be thinly sliced and used in salads, or braised with mushrooms for satisfying flavor without meat. Anti-inflammatory, antioxidant (cancer preventive) and cholesterol-lowing nutrients are on the long list of benefits.
Looking for low-carb substitutes for mashed or fried potatoes? Pureed cauliflower makes a delightful stand-in for mashed potatoes, especially when blended with Greek yogurt. Less common are Romanesco, an excellent source of vitamins C and K, fiber and carotenoids; Kohlrabi, with edible roots, leaves and stems packed with potassium and Vitamin C; and Celeriac, also known as root-celery, containing antioxidants, Vitamin K and phosphorus. For a healthy alternative to French fries, consider Jerusalem artichokes, or sunchokes, with a mellow taste and flaky texture, and plenty of energy-boosting iron and cholesterol-lowering soluble fiber. Slice matchstick-thin, mix in a sprinkle of vegetable oil, rosemary, cayenne, salt and pepper and bake for 15 minutes. Or enjoy a baked sweet potato, skin and all, for a winter treat that's high in Vitamin A and fiber, with a minimum of calories.
Beets, high in folic acids, offer crunch, color and taste. Sautee with garlic and some olive oil or use in soups for a nutritional boost.
Change up onions with leeks, which have a milder, sweeter flavor, and compounds such as allicin that fight free radicals in your body and flavonols that may help fight cancer and lower the risk of heart disease.
Carrots are always a sturdy choice, rich in beta carotene, a compound that may reduce heart disease and certain types of cancer (although supplements are not recommended, especially for smokers), and Vitamin A, which bolsters vision and bone growth. Parsnips offer a change of pace, with a sweet flavor, double the fiber of carrots, potassium and folate for cardiovascular benefits, and almost 40 percent of the daily requirement of Vitamin K, a nutrient associated with bone health.
Winter squash, in a variety of shapes, colors and flavors, are rich in Vitamins C and A, and can be boiled, baked, roasted, simmered, steamed, microwaved or sautéed. For a low-calorie alternative to pasta, try spaghetti squash which yields long yellow strands when cooked. Sweet potato fans will enjoy butternut squash, with a similar sweet nuttiness and an even silkier texture.
Broccoli contains calcium, folate, iron, protein, Vitamins A and C and fiber, and is versatile enough to steam, roast, stir fry, puree for soups or eat raw.
Give winter salads a spin with a bowl of curly endive, radicchio, beets, fennel, kohlrabi and turnip greens. Roast or boil until tender and dress while still warm to allow the flavors to be completely absorbed.
There are many more choices in the produce aisle…go browse your local grocery store and try something new this winter!
The post Find Your Roots with Winter's Best Veggies appeared first on Specialdocs Consultants.