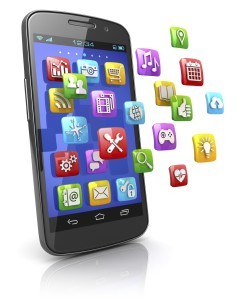 Apps (short for "applications"), are pieces of software that you can download and utilize on your computer, phone or other electronic device. The initial explosion of apps in 2010 has grown exponentially each year, with more than 40,000 medical and health ones now available to users of iPhones, iPads, Androids and others.
These apps offer the opportunity to do everything from counting calories to calculating cardiac risk and managing diabetes. Clearly, the potential for patients is enormous, but as you might suspect not all apps are created equal. How to sort through the myriad offerings and select the most trustworthy and reliable? Although many consider this industry the "new Wild West," there are some outstanding apps with proven value. However, it is very important to remember: no app, website, or online discussion can take the place of a phone call or office visit with your own personal physician.
Because of the growing availability of online medical resources, the Food and Drug Administration (FDA) has divided apps into two categories— those that assist with healthful lifestyles and those that turn your phone into a medical device for recording vital measurements such as blood pressure and then send those readings to a doctor. Some approved medical device apps are available only with a physician's prescription. For example, smart phone apps which link to cardiac devices, record the signals and forward the data. There are also mobile diabetes management systems.
Conversely, there are medical apps to beware of; at the top of the list would be those that claim to detect skin cancer. In a study published in the January, 2013 issue of JAMA Dermatology, three out of four smartphone apps used to detect melanomas incorrectly defined 30% of melanomas as insignificant; one app missed 93% of all melanomas. Studies like these are why the FDA will be issuing regulations for mobile medical apps in the near future.
According to a recent study by Medical Economics, apps for managing diabetes and cardiovascular disease which are recommended most frequently by physicians include:

Diabetes, iCookbook Diabetic, Diabetes In Check, and Glucose Companion, which enable patients to monitor their condition, track food consumption, access diabetes-friendly recipes and plan meals, track blood sugar and weight, and share tracking results with the physician's office.

iCalcRisk app encourages healthier lifestyles by calculating your cardiac risk; Blood Pressure Monitor and Heart- Wise Blood Pressure Tracker help monitor blood pressure, resting heart rate, and weight.
Numerous health and fitness apps are also available. We have highlighted a few:

iTriage allows you to check symptoms and easily locate a physician or hospital in the event of an emergency.

Tummy Trends helps you track irritable bowel syndrome symptoms, exercise habits, water intake, fiber intake, stress levels and share results with the physician.

Couch-to-5K by The Active Network for those just beginning to get in shape.

Fooducate works with you as you shop—scan the barcode on packaged food items and each receives a grade from A to D, with healthier alternatives offered.

Luminosity Brain Trainer sharpens the mind with memory and attention games.

Epocrates Rx provides a handy drug reference with photos of pills and how they interact.

Sleep Cycle gauges your movements as you sleep, waking you while you're in your lightest sleep cycle during a preset 30-minute window.

Drink Tracker lets you know when it's time to hand over the car keys after a night out by tracking your blood alcohol concentration.
You may want to try some of these apps and discuss with your personal physician what you have found most helpful.
The post Apps for Healthcare appeared first on Specialdocs Consultants.