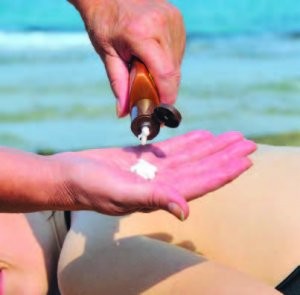 HealthWise presents an ongoing look at research that provides valuable insights to help today's seniors – and the generations set to follow – create a vibrant next chapter. We have looked at strategies to keep the aging brain healthy and to protect the aging senses. In this issue, we get under your skin to learn how to keep it supple and resilient over the years.  Wrinkles. Dry skin. Crow's feet. Undereye circles.  Sagging. Is there a way to stave off these very natural signs of aging? The answer is yes…and no. The thickening of the stratum corneum (the outer layer of the epidermis) which causes drier and flakier skin, is inevitable, as is the thinning of the dermis (underneath the epidermis), resulting in loss of elasticity.  Genetics plays a pivotal role in determining when this starts to occur. However, there are a number of preventive steps you can take – some well-known and a few unexpected – which may help mature skin keep its youthful glow at 50, 60 and beyond.
Experts advise:
Cut your sun exposure in half, at a minimum. UV exposure damages elastin and causes a loss of collagen, which results in sagging, fine lines and wrinkles. Think of sunscreen as the only truly magic elixir to improve skin appearance and health, and most importantly, prevent skin cancer…and choose one with SPF 30 or above and broad-spectrum UVA/UVB protection and use daily. In addition, wear a hat and UV-protective clothing outside, and try and avoid being in the sun when UV rays are strongest, between 11 am and 1 pm.
Exercise. Another benefit to engaging in at least three hours of physical activity weekly is the positive impact on keeping skin younger, with the potential to reverse skin aging even for those
who start exercising late in life. New research showed that men and women over age 65 who exercised frequently had skin composition similar to 20 to 40-year-olds, with markedly thinner,
healthier stratum corneums and thicker dermis layers. Participants' skin "looked like that of a much younger person, and all they had done differently was exercise." Researchers surmised
that myokines, substances created by working muscles, may be responsible for the results, jump starting changes in cells far from the muscles themselves. They also noted that it was
unlikely that any pill or salve would replicate the skin benefits of a workout.
Take short, lukewarm showers. Long, hot showers strip your skin of its natural oils.
Protect in winter with a humidifier to add moisture to the home, and gloves to protect your hands from drying out.
Focus on the right foods and beverages.  Include omega-3 and omega-6 fatty acids in your diet, preferably from natural sources such as olive oil and fish, to help protect your skin's
moisture barrier. Cut back on sugars which promote inflammation and can potentially damage normal production of dermal cells. Avoid high glycemic foods such as white bread and pretzels, which may also be responsible for prematurely aging skin. Drink plenty of water, but moderate alcohol intake – red wine can dilate blood vessels and contribute to rosacea, a skin irritation.
Establish a smart night routine. Remove all makeup and wash your face before bed to eliminate the pollutants that break down your skin's collagen all day. Then apply a retinoid followed
by a moisturizer.
Get a good night's sleep. During the deepest stage of sleep, your body releases growth hormones for cell repair, helping your skin rejuvenate on a daily basis.
Minimize dark undereye circles with an extra nighttime pillow. As the delicate skin and muscle around the eyes weaken with time, the fat under the lower-lid skin can pool beneath your eye. Sleeping on two pillows can help prevent fluid accumulation.
If you want to explore other remedies, consider peels that exfoliate, and fractional resurfacing, a laser process that increases collagen production.
The post Aging Well, Aging Healthy…a continuing series appeared first on Specialdocs Consultants.